Domain Safety Chain – The security chain of your domain names
Did you know that the availability of your e-mails, websites and Internet services depends on your Domain Name?
Your domain names are strategic. On them rely all the digital assets essential to your company: e-mails, websites, Internet services. A service disruption is unthinkable and could have heavy consequences: revenue loss, loss of users' trust, data theft, traffic loss, etc.
However, if your domain names have an undeniable intangible and strategic value, they are also extremely weakly protected, letting clear entrance doors to pirates and cybercriminals of all kinds.
In order to simply and efficiently prevent those lack of security, Nameshield, certified ISO 27001 on all its registrar activity, presents the Domain Safety Chain, a simple combination of tools to secure your digital assets.
Real security chain with different links, the Domain Safety Chain is easy to implement to protect domain names in any circumstances:
Identify: Nameshield experts assist you in the identification of the strategic domain names to protect.
Secure: our team recommends an optimized application of the different tools – SSL certificates / Registry lock / DNS Premium – managed from a highly available and secured platform.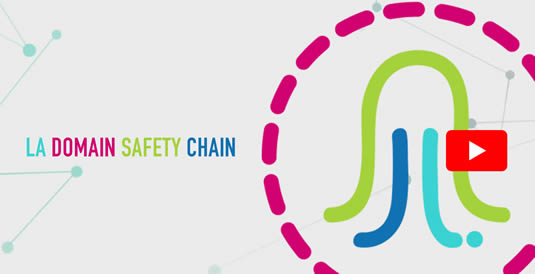 DNS Premium
From the availability of the DNS, depends the availability of your services. Protect your digital assets from any attacks and ensures a high availability.
Your strategic domain names and the associated Internet services require a highly available DNS and also a high level of security.
The DNS is a well-known attack vector: DDoS, spoofing, Man in the Middle. The attacks are various and sophisticated. However, the DNS is often the less secured infrastructure of a company.
Central link of the Domain Safety Chain, place your most strategic domain names on the DNS Premium of Nameshield and benefit from its anti-DDoS filter, associated to an anycast network.
With DNS Premium, you can also secure your names against spoofing attempt (data hijacking) thanks to the DNSSEC protocol.
Nameshield DNS Premium adapts perfectly to your needs and your infrastructure:
Primary and/or secondary server use
Adaptation to the customers' infrastructures (primary, hidden, etc.)
Unlimited number of registrations per zone
Integration in the PRA/ PCA
Nameshield DNS Premium infrastructure is strong and reliable. It's a highly available DNS solution, built in a performance cluster and associated to an anycast network and expert functionalities: geoIP, failover, detailed statistics, etc.
Registry lock
Against all hacking attempts, lock your domain name
Your domain name, the associated website and Internet services, are your first window to the public. A target of choice for cybercriminals.
As the news have proved it many times, domain names hijackings are more and more frequent and there are many examples (NYTimes.com hijacked towards a page of the SEA – Syrian Electronic Army -, Twitter, BBC, etc.).  In most cases, a simple Registry lock could prevent any hijacking.
The hacking method is simple: the cybercriminals steal the access codes to the management platform or hack it, and request to the registry a modification, for example, a DNS change. Then, the hackers only have to point the domain name towards the page of their choice.
That's why, a simple lock at the registry level is needed to block all attempts of hijacking, even if your accesses are hacked, since the registry lock will prevent any modification without prior authentication.
SSL certificates
Lock the authenticity and the integrity of your data with SSL certificates.
Your data and your customers 'data are precious. Only an adapted SSL certificate ensures integrity and authenticity.
A SSL certificate ensures:
Data authenticity
Data integrity
Encrypting data
A SSL certificate verifies the legitimacy of your website or your business online and provides an encrypting. It ensures that the information sent between your website and the Internet user is secured and remains private.
The SSL experts of Nameshield identify with you the names that should carry a SSL certificate and optimize their acquisition by proposing the right certificate adapted to your needs.
Highly secured platform
A highly secured platform for protected accesses.
The Nameshield Domain Safety Chain is based on our highly secured platform.
Because our management platform can be the first access to your domain names, targets of choice for hackers, it's essential for Nameshield to offer the best securing.
To protect your domain names and the associated services, Nameshield, certified ISO 27001, provides a highly secured management platform, with multiple security levels.
IP filter
Access management by ACL (Access Control List) and Logs histories
Strict policy of passwords management
Two factors authentication